Herb Crusted Salmon – Chef Irie's Recipe
Herb Crusted Salmon – Chef Irie's Recipe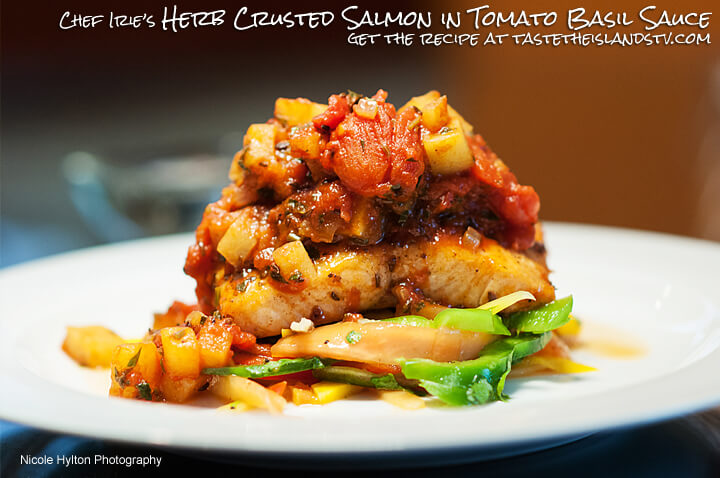 The Herb Crusted Salmon that Chef Irie prepared on Season 1 of Taste the Islands is a delicious salmon dish smothered in a rich sauce of tomato, apples, chayote and a blend of robust spices. Enjoy with his Papaya Mango Slaw as a sweet and savory topping.
---
FOR THE SAUCE
¼ cup chopped red onion
3 garlic cloves, chopped
1 chayote squash, medium diced
1 gulla or green apple
1 tsp red pepper flakes
½ cup dark caribbean rum
1 can san marzano tomatoes, hand-squeezed
1 tsp ground cumin
1 tsp ground coriander
Salt & pepper to taste
½ cup rough chopped parsley
INSTRUCTIONS
Place salmon in bowl and season with ingredients listed.
Cover with plastic and place in fridge to chill.
On medium heat, using large saute pan add oil. When hot sear pieces of salmon until golden brown on side. Remove the salmon from heat and place on paper towels.
Add garlic and onions to pan and saute for 1 minute, moving around in pan to not burn.
Add the apple and chayote and saute for 2 minutes before adding rum to deglaze the pan. Reduce heat then add the tomatoes and spices. Adjust the seasoning, cover and let cook for 10 minutes on low heat, then add the parsley.
Add the salmon to pan seared side up and cook for another 5 minutes. Remove from heat and serve with the slaw.
---