Pineapple Upside Down Cake
Pineapple Upside Down Cake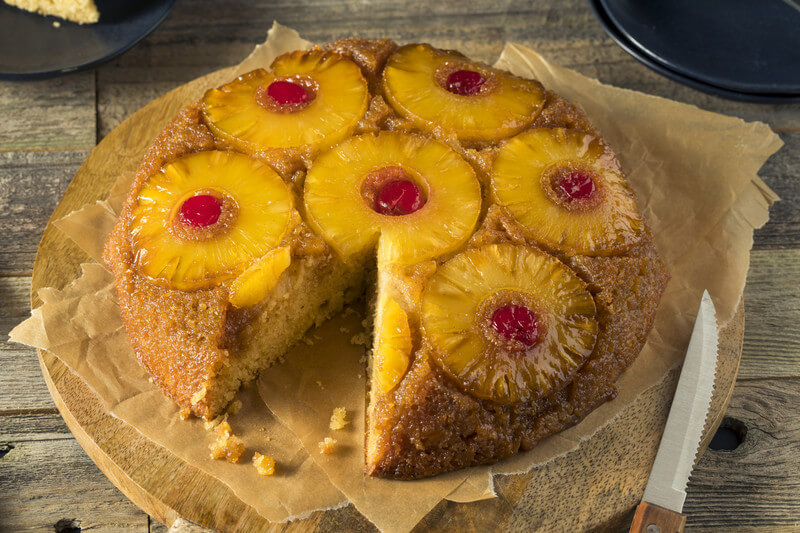 Pineapple upside down cake is popular throughout the Caribbean and especially during the holidays. In this Haitian-style recipe, pineapples, cherries, and prunes become caramelized in brown sugar at the bottom of the pan while the cake bakes to golden perfection. The juices from the fruits seep into the cake and the result is super moist and delicious.
---
(Serves 10-12)
INGREDIENTS
Nonstick cooking spray or butter to grease pan
1 cup unsalted butter (2 sticks)
1 cup sugar
2 cups flour, sifted
2 tsp. baking powder
3 eggs (room temperature)
¾ cup pineapple juice
1 tsp. vanilla extract
¾ to 1 cup brown sugar
20 oz. can sliced pineapple, or fresh pineapple sliced into rings
1 tbsp. dark rum
Maraschino Cherries
Dried Prunes (optional)
INSTRUCTIONS
Preheat the oven to 350 degrees F. Grease and flour a 10″ round cake pan.
In a large bowl, beat butter and sugar at medium speed with an electric mixer until creamy. Add the eggs, 1 at a time, beating well after each addition. Stir in the vanilla, rum and pineapple juice.
In a separate bowl sift together the flour and baking powder. Gradually add this to the butter mixture while stirring to incorporate.
Add the brown sugar to the prepared pan. Arrange the pineapple slices, prunes and cherries over the brown sugar. Reserve remaining pineapple slices and cherries for another use. Pour batter into pan and spread evenly.
Bake in the oven for about 40 minutes or until a toothpick inserted into the center comes out clean.
Turn cake out onto a platter and serve at room temperature.
Adapted from Caribbean Green Living
---