Guava Cream Cheese Phyllo Tartlets
Guava Cream Cheese Phyllo Tartlets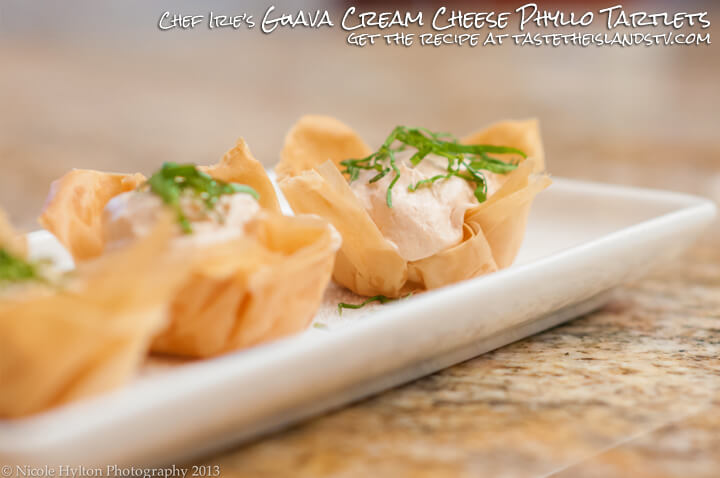 A Greek inspired spin on a Latin American favorite. Guava Cheese Pasteles become Guava Cream Cheese Phyllo Tartletts.
---
INGREDIENTS
6 sheets phyllo dough
1/2 lb guava paste
1 lb softened cream cheese
4 tbsp dark caribbean rum
3 tbsp orange juice
2 tbsp sugar
Dash of cinnamon
Julienned basil for garnish
1/2 cup melted butter
INSTRUCTIONS
Preheat oven to 375°
FOR TART SHELLS

Take one sheet of phyllo and brush butter over it.
Repeat this process twice more and stack the three sheets together
Repeat the entire process for the remaining 3 sheets to create another 3 sheet stack
Sprinkle the sugar on the top sheet then cut into 4″ x 4″ squares
Tuck each square into a regular muffin pan to form a pocket
Place in a 375° oven for 5 – 8 minutes or until phyllo dough is lightly golden brown
Remove from oven to cool
FOR MOUSSE FILLING

In countertop mixer, whip softened cream cheese until fluffy
Add guava paste, orange juice, rum and cinnamon and puree until smooth
Place in a bowl and store in refrigerator to chill
TO SERVE

Scoop portion size into phyllo crisp and garnish with basil
NOTES
Taste for rum content and sweetness and adjust rum and sugar accordingly.
Watch phyllo dough closely in oven as it takes only a few minutes to brown.
---