Baked Ham with Pineapple (Jamaican Christmas Ham)
Baked Ham with Pineapple (Jamaican Christmas Ham)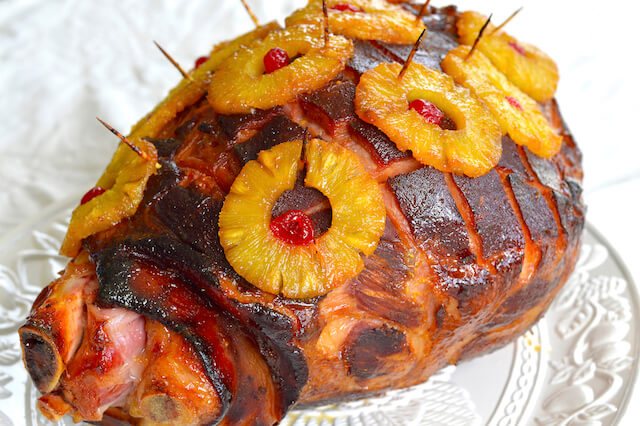 It's that time of year again for Baked Ham with Pineapple, also known as Jamaican Christmas Ham. Flavorful cloves and sweet pineapple pair up perfectly with ham in this traditional recipe. This simple dish has been a constant in Jamaican culinary history.
---
INGREDIENTS
1 10 lb ham
¾ cup sugar
12 pineapple slices
10 cloves
12 cherries
1 cup water
INSTRUCTIONS
Preheat oven at 300 degrees F.
Place ham skin side up on a baking tray and bake for 90 minutes.
Remove from oven and score the ham placing cloves in the groves.
In a sauce pan cook pineapple slices with water and sugar until a glaze is formed.
Pour the glaze over the ham and garnish with pineapple and cherries.
Put the ham back in the oven and bake for another 30 minutes.
Adapted from Get Jamaica
---