Snapper Ceviche – Chef Irie's Version
Snapper Ceviche – Chef Irie's Version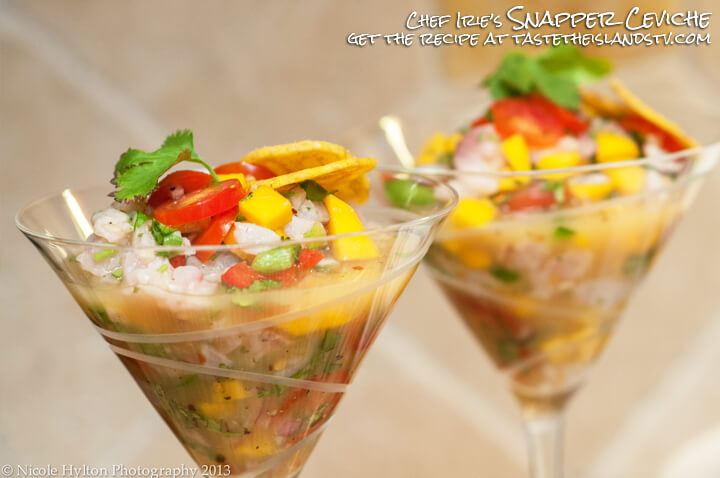 Snapper Ceviche is a savory Latin-American dish made with citrus and seafood. Switch out the seafood ingredient to make it your own way.
---
INGREDIENTS
1 lb fresh snapper (no skin or bones)
3/4 cup lime juice
1 cup orange juice
1/2 tsp red pepper flakes
4 – 5 cherry tomatoes (sliced)
1/4 cup medium diced mangoes (ripe but firm)
1/4 cup diced red and green peppers
1/4 tsp chopped ginger
1/4 tsp diced jalapenos
1/4 cup red onions julienned
1 tsp thyme leaves
1 tsp black pepper
1 tsp salt
1/4 cup chopped cilantro
Cilantro sprigs and plantain chips for garnish
INSTRUCTIONS
Dice snapper fillets into 1/2″ cubes, place in a bowl and add a quarter of the lemon and orange juice. Place that bowl into another with ice for 10 minutes
Drain snapper and place in a medium clean bowl
Add chopped vegetables and fruit
Add fresh lemon and orange juice, salt and pepper to taste, and rough chopped cilantro
Mix together all ingredients and spoon into martini glasses
Place in fridge until ready to serve.
Garnish with cilantro sprigs and plantain chips
NOTES
Use snapper, shrimp, mahi, tuna or any other firm white fish.
Use lemon, lime, orange or grapefruit juice.
Use fish within 2 days of purchase for maximum freshness.
---