Jerk Turkey Pumpkin Frittata
Jerk Turkey Pumpkin Frittata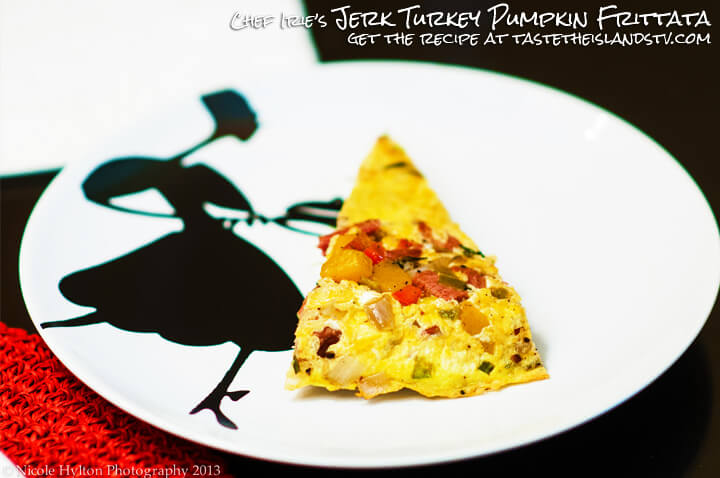 Jerk Turkey Pumpkin Frittata is one of Chef Irie's Caribbean breakfast and brunch recipes from Season 1 of Taste the Islands. With just eggs, smoked turkey or other protein, Jerk Seasoning, pumpkin and a few other goodies, you can enjoy this quick and simple deliciousness.
---
INGREDIENTS
6 beaten eggs
1 tbsp prepared jerk seasoning
½ cup ea diced red and green peppers
¼ cup red onions, diced
1 ½ cup blanched diced calabaza pumpkin
1 ½ cup smoked turkey, diced
1 tbsp thyme leaves
2 tbsp butter
Salt & pepper to taste
INSTRUCTIONS
Turn oven to 350 deg.
Whisk eggs with jerk seasoning in medium size bowl
Add butter to medium pan on medium heat. Then add the vegetables and sauté for about 1 minute. Add the turkey and thyme leaves and saute for another minute. season with salt and pepper. Reduce heat to medium low.
Add the whisked eggs and stir to combine mixture in pan. When the eggs just start to set remove from heat and place pan into oven. Cook until omelet in pan is set with just a slight brown on the top. Remove from oven and let cool.
When cooled, use a small knife to rim around the edge of pan to release omelet from the sides, place a plate on top of pan face side down then invert the pan onto plate. Omelet should slide out.
Omelet can be sliced into wedges and served warm or room temperature.
---