Chef Irie's Cilantro Corn Soup
Chef Irie's Cilantro Corn Soup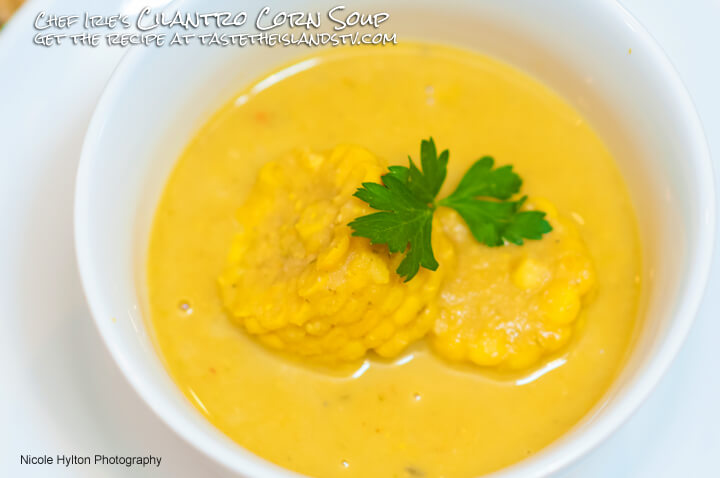 Nicole described this one as a "warm bowl of love". Chef Irie's interpretation of Trinidadian corn soup, a popular after-fete dish, will have you feeling warm and fuzzy on the inside too.
---
INGREDIENTS
4 tbsp olive or canola oil
¾ cup chopped onions
4 garlic cloves, chopped
1 tbsp fresh ginger, peeled and chopped
½ cup diced green bell pepper
1 cup diced celery
2 cups diced calabaza squash
2 cups yellow split peas
½ cup diced carrots
1 ½ cups garbanzo beans, cooked
4 fresh corn on cobb
1 tsp ground cumin
1 tsp red chili flakes
2 thyme sprigs
2 tbsp chopped cilantro leaves
6 – 8 cups chicken or vegetable stock or water
Salt & pepper to taste
INSTRUCTIONS
Remove the corn kernels from two cobs and save the cobs. The remaining two, cut in 1 – 2" pieces.
In soup sized pot, sautée onions, garlic and ginger for about 2 minutes in olive oil on medium heat. Season lightly with salt & pepper.
Add the next 6 ingredients, stir and keep on heat for about 2 -3 minutes then add the corn kernels, pieces of corn and cob sticks to the pot.
Add the cumin, chili flakes thyme and cilantro leaves, re-season then add the stock. Stir well and allow to come to a boil then reduce to a simmer. Cook for 45 minutes.
Remove the corn pieces. Also remove the cobs and thyme sprigs and discard.
Remove the pot from the heat. Using a hand blender, puree until smooth then add the corn pieces back to the pot.
Cook for another 15 minutes on low heat then the Soup will be ready to serve.
Ladle portions into bowls, add pieces of corn to bowls. Garnish with cilantro sprig.
NOTES
Use butternut squash or other fall squashes if Calabaza is not available.
---