Chef Irie's Chayote Salad
Chef Irie's Chayote Salad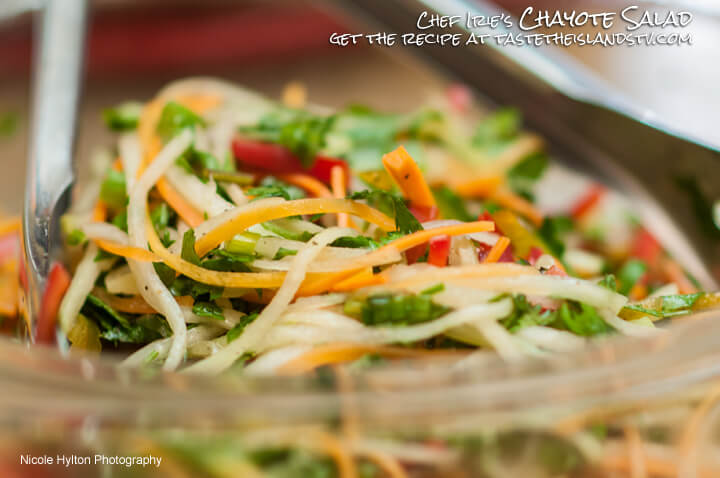 You can julienne by hand or carefully use a mandolin for this mouthwatering delicious salad. There's some cutting to get your vegetables nicely sliced. But once they've been coated in Chef's fresh, home made lemony vinaigrette and marinated for just a few minutes, they make for a heavenly side that even lasts for a few days in the fridge! Serve along with Chef Irie's Picadillo Meatballs or any other meal you choose. Great for vegetarian menus as well.
---
Serves 10
Prep Time 30 min
Total Time 30 min
INGREDIENTS
2 cups carrots, peeled & julienned
2 cups chayote, peeled seeded & julienned
½ cup red pepper, julienned
¼ cup green pepper, julienned
½ bch chopped cilantro leaves
½ bch chopped flat leaf parsley leaves
½ bch Fresh mint leaves
¼ cup chopped green onions
1 tbsp dijon mustard
3 tsp brown sugar
½ cup lemon juice
¼ cup lime juice
¼ cup red pepper flakes
½ cup canola oil
Salt & pepper to taste
INSTRUCTIONS
Place all julienned vegetables and herbs in medium mixing bowl. Toss to mix together.
In separate medium bowl, add mustard and next 4 ingredients, mixing well with whisk. Then add the oil and whisk until liquids emulsify. Taste to check seasoning and adjust salt & pepper if desired. Drizzle small amounts of dressing at a time over vegetable mixture without oversaturating. Once vegetables are coated, place salad in refrigerator for a few minutes. Serve chilled.
---