Jamaican Jerk Chicken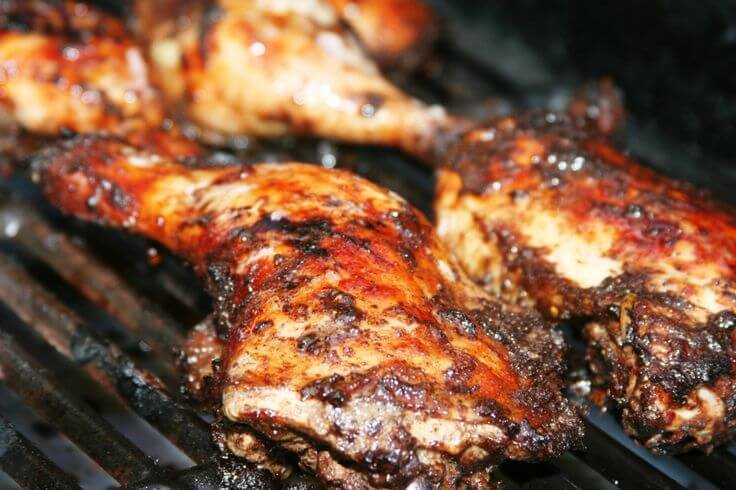 Jamaican Jerk Chicken is a spicy, smoky delicious entree. Jamaica is internationally famous for jerk chicken. The most popular way to finish the seasoned meat, and the way we recommend doing it for the summer, is by marinating it in Jerk Seasoning, grilling it (sprinkling occasionally with a Red Stripe or other available Caribbean beer). You can also try smoking it for a fall-off-the-bone tender texture or baking it for an easier finish.
---
INGREDIENTS
One 3 1/2 lb chicken (3lb of chicken breasts may be used if preferred)
1 – 6 sliced scotch bonnet / jabanero peppers (the more peppers used, the hotter the sauce becomes so be careful!!!!)
2 tbsp thyme
2 tbsp ground allspice
8 cloves garlic, finely chopped
3 medium onions, finely chopped
1/2 cup olive oil
1/2 cup soy sauce
Juice of one lime
1 cup orange juice
1 cup white vinegar
2 tbsp sugar
2 tsp salt
2 tsp ground black pepper
1 to 2 tsp of the following (to taste)

Ground cinnamon
Nutmeg
Ginger
PREPARATION
Chop the onions, garlic and peppers. These do not need to be chopped too fine as they will be pulverized by the blender.
Blend all of the seasonings and liquid in a blender to make the jerk sauce.
Cut the raw chicken up in to 4 pieces.
Set some sauce aside for basting and dipping later.
Rub the remaining sauce in to the meat and leave the chicken in the fridge to marinate overnight.
COOKING
Grill the meat slowly until cooked, turning regularly. Baste with some of the remaining marinade while cooking. For best results, cook over a barbecue heated with pimento wood.OR
Bake in the oven for 30 minutes, turn the meat then bake for a further 30 minutes.
TO SERVE
Chop each quarter chicken portion in to 5 or 6 smaller pieces using a heavy cleaver.
Use a pair of tongs or other kitchen utensil to hold the chicken in place while chopping and NOT YOUR HAND (you will be chopping with enough pressure to cut through bone!!!)
Serve with festivals, rice and peas, hardo bread or simple white rice, along with the jerk sauce left over for dipping. (Please check the site for recipes)
NOTES
Do not touch your eyes, face, mouth or sensitive areas with your hands after touching the peppers. They are EXTREMELY hot. One pepper in your mixture will offer an enjoyable, mild flavor. Go up to six if you're really adventurous but NOT if you are offering the sauce to children.
---