Cake de Ron (Cuban Rum Cake)
Cake de Ron (Cuban Rum Cake)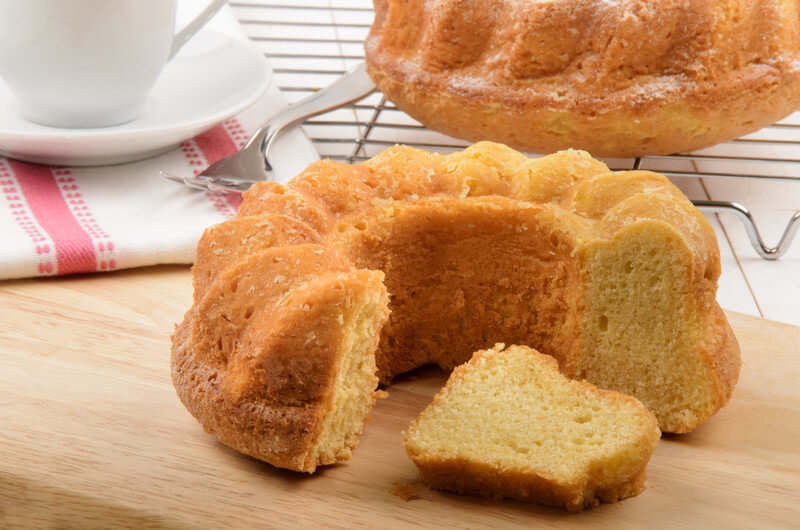 Cuba's version of Rum Cake, Cake de Ron, is different from other rum cakes commonly made throughout the Caribbean. You won't find any rum-soaked fruits in this super moist Bundt cake, but with lemon zest, banana liquor, and of course plenty of nice dark rum, the flavors are complex and delicious.
---
(Serves 8-12)
Total Time: 55 mins
FOR THE CAKE:
3 cups flour
2 tsp. baking powder
1/2 tsp. baking soda
Pinch of salt
1 1/2 cups butter, softened
1 1/2 cups granulated sugar
2 tsp. pure vanilla extract
3 eggs plus 1 egg yolk
2 tbsp. grated lemon peel
1/2 cup dark rum
1/4 cup banana liqueur
1 cup heavy (whipping) cream
FOR THE RUM SYRUP:
5 ounces butter
1/4 cup dark rum
1/4 cup banana liqueur
3/4 cup white sugar
1/4 cup powdered sugar for dusting, or to taste
PREPARE THE CAKE
Preheat oven to 350º F.
Sift flour, baking powder, baking soda, and salt and set aside.
With an electric mixer, cream together the butter and sugar. Add vanilla and eggs and beat until blended. Beat in the lemon peel and then add the rum and banana liqueur. Gradually add the flour and blend until just combined.
Pour batter into a well-greased and floured Bundt pan and bake for one hour or until a toothpick inserted in the cake comes out clean. Place on a cooling rack
PREPARE THE RUM SYRUP
Melt the butter in a two-quart sauce pan. Add the rum, banana liqueur, and sugar and slowly bring to a rolling boil. Cook until it is somewhat reduced (do not overcook). Let cool.
Use a skewer and poke holes all over the cake. Spoon the syrup evenly over the cake. Let stand for 30 minutes, so that the syrup soaks in.
Finally, carefully turn the cake out onto a serving plate. Dust with powdered sugar.
Adapted from Three Guys from Miami
---