Create® TV Is Bringing Island Flavor To Millions of American Homes
Create® TV Is Bringing Island Flavor To Millions of American Homes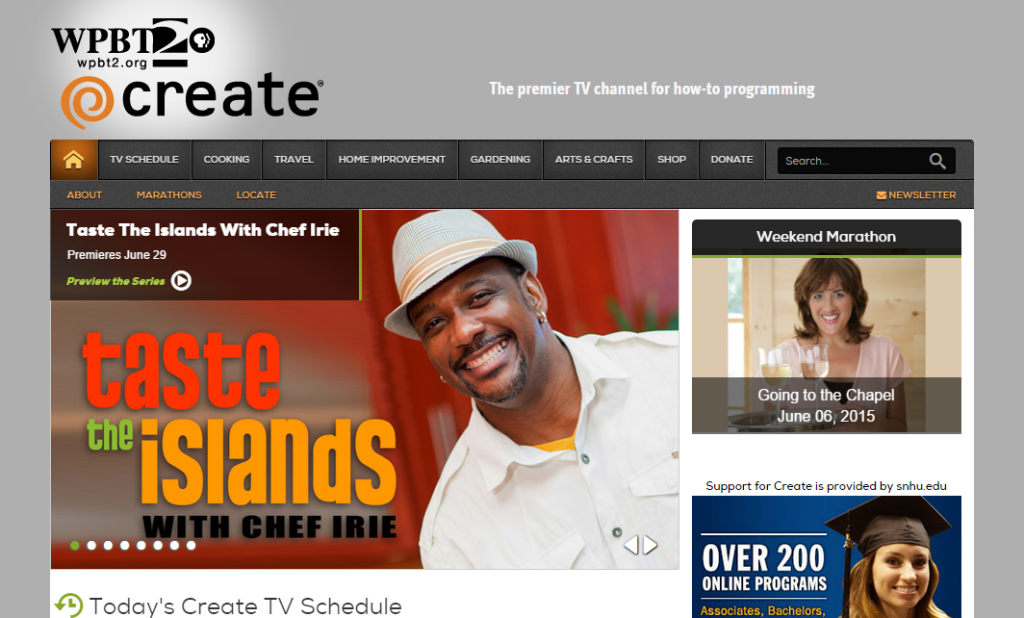 ---
This Caribbean American Heritage Month, island cuisine will find a new home on American Public Television's 24/7 lifestyle channel.
Miami, Fla.- June 22, 2015 – Bringing an appropriately festive close to Caribbean American Heritage Month 2015, "Taste the Islands with Chef Irie", the first Caribbean cooking series to be picked up by public television stations across the United States, will begin broadcast as part of Create® TV's summer lineup. The pickup by 229 Create® TV stations translates to almost 80% of US television households. The vibrant new series will premiere on June 29 and air Mondays and Fridays at 8:30AM and 2:30PM (EST). Viewers can find out where to watch locally at www.createtv.com.
Create® TV, is the dynamic 24/7 digital channel of popular lifestyle programming distributed by American Public Television (APT). Its do-it-yourself genres include the best from APT's extensive library of cooking, home-improvement, gardening, painting, crafts and travel series.
"It was less than four weeks after we started rolling out in major public television markets across the US that we got the news", Calibe Thompson, Executive Producer / Director of the Blondie Ras Productions series, said. "Being the first Jamaican production team and the first Caribbean cooking series to achieve this reach on public television has been surreal for all of us". Thompson and her team are currently gearing up for production of the show's second season.
Christopher Funkhouser, Vice President of Exchange Programming and Multicast Services at APT confirmed, "Cooking is one of the most popular genres on public television and we expect audiences will respond enthusiastically to the new series."
Hugh "Chef Irie" Sinclair is a professional chef with a palpable love of creating delicious food. In each episode of "Taste the Islands", he creates mouthwatering fare inspired by his Jamaican upbringing, the wider Caribbean, and his travels around the world.
Each episode presents an opportunity to learn about food from the native islands of Chef Irie and his celebrity guests including Inner Circle of "Bad Boys" fame, British reggae fusion singer Maxi Priest, who topped US charts with hits like "I Just Wanna Be Close to You" and "Set the Night to Music" in the 1990s, Trinidadian Olympic sprinter turned NBC sports analyst Ato Boldon and St Vincent's "Turn Me On" hit-maker Kevin Lyttle.
"Taste the Islands", supported primarily by Jamaica – Home of All Right, continues to roll out on independently operated public television stations across the country as well. Fans of Caribbean cuisine can discover recipes, get cooking tips, view behind the scenes images and more on the show's website, www.tastetheislandstv.com.
About Blondie Ras Productions
Blondie Ras Productions is a South Florida-based video production company that creates Caribbean-inspired lifestyle content for an international audience appreciative of cultural diversity. The company seeks to become the preeminent source for Caribbean-related television content. Blondie Ras Productions is the company behind the "Taste the Islands," "The Caribbean Diaspora Weekly," "Miami Fitness TV," and "Island Origins" television shows.
About APT
American Public Television (APT) has been a leading syndicator of high-quality, top-rated programming to the nation's public television stations since 1961. For 10 years, APT has annually distributed one-third or more of the top 100 highest-rated public television titles in the U. S. Among its 300 new program titles per year, APT programs include prominent documentaries, news and current affairs programs, dramas, how-to programs, children's series and classic movies. America's Test Kitchen From Cook's Illustrated, Rick Steves' Europe, Live From the Artists Den, Doc Martin, Nightly Business Report, Midsomer Murders, Vera, NHK Newsline, Lidia's Kitchen, Globe Trekker, Simply Ming, and P. Allen Smith's Garden Home join numerous documentaries and performance programs popular with public television viewers. APT licenses programs internationally through its APT Worldwide service. Now in its 10th year, Create® TV — featuring the best of public television's lifestyle programming — is distributed by APT. APT also distributes WORLD™, public television's premier news, science and documentary channel. To find out more about APT's programs and services, visit APTonline.org.

# # #
Contact:
Annette Davidson
Icon Marketing
917 267 9435
Annette[at]iconmktg.com
Comments from the show's website:
"I just finished watching an episode of your show on our Public TV station up here in Minnesota,(June, 11th) I loved it. I felt at home watching your program. I wished I was there with Chef and his friends as they enjoyed the spicy fish dish with Star fruit. Everyone seemed to have a grand time… I wish you all the luck in the world. Please continue to bring your great food to people like my family in Minnesota…"
Thom & Denise Rigger
Coon Rapids, Minnesota
"Hi! New to your show and love it!! Saw … that on a North Carolina channel. Thank you so very much! Love you and your food!"
Barb
"Finally, a cooking show that showcases Caribbean cuisine! So long overdue. Love the show, keep up the great work!"
Nellita Haase
"I saw your cooking show for the first time,I love,love love it.Your cooking show makes me long for my Island food. Great show."
Alie
"Hi, I just found your show for the first time and loved it!!!! I wanted the recipes for mango-key lime pie and shrimp bisque! Thank you"
Karis
"I really like the show because it is so different. Please add more recipes, start with Jerk Chicken!!! Thanks! From California"
Mike
"I have really enjoyed the show. I hope you will be continuing to add the recipes. Looking forward to more of the chefs creations! Thanks!"
Rick
---